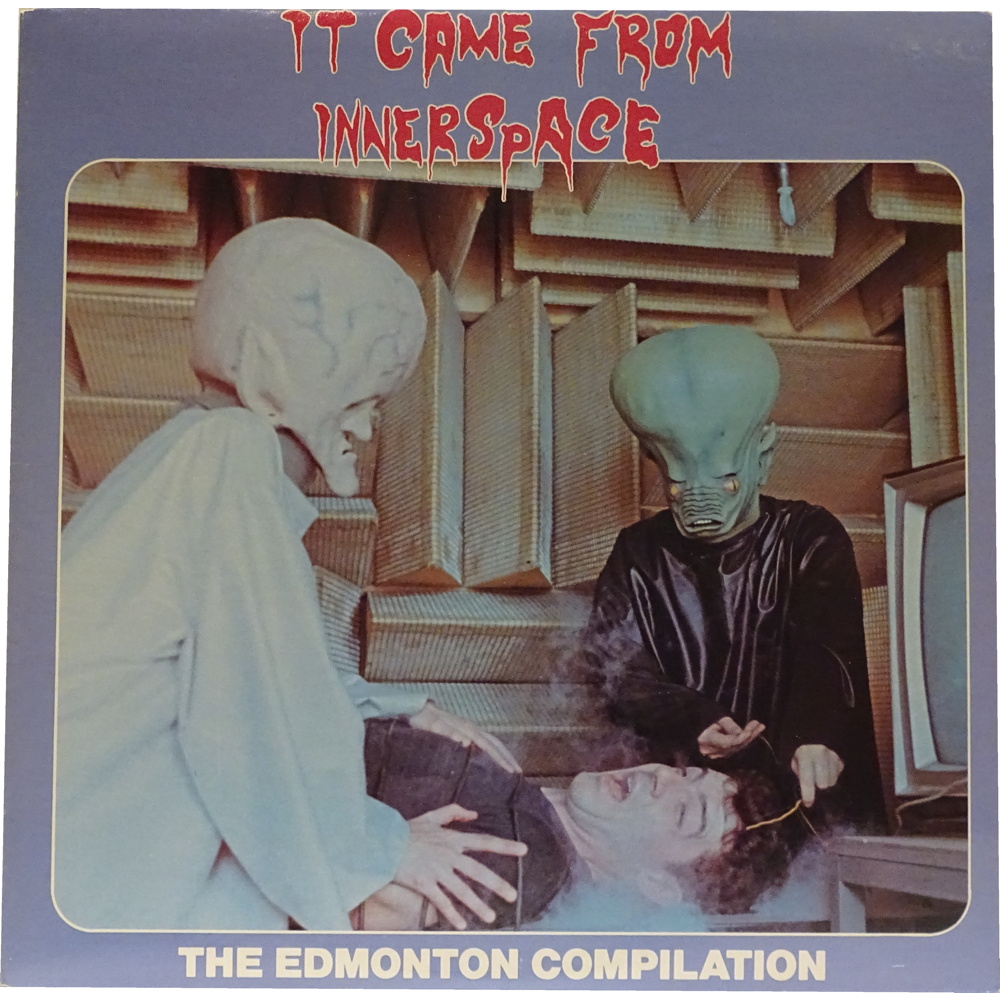 Booklet photo: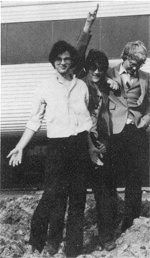 Blurry photo from back cover of album: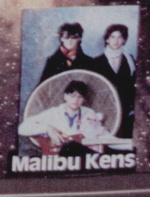 Ken Chinn drew this remarkably accurate caricature of Mike that was included on the front page of the booklet (since we cut Mike out of all the other pictures):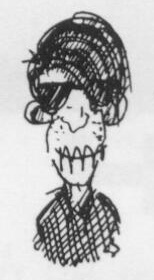 Last updated: October 14, 2017
An Explanation
Following the failure of West Watch, Barry Peters came to the rescue with his own Edmonton compilation album: It Came From Inner Space. Rather than requiring groups to spend money recording at a commerical studio, Barry rented a warehouse (and all the recording equipment) to produce his own album. The groups invited to be on the album just had to show up and play, Barry did everything else.
These sessions were the last time the Malibu Kens ever worked together on a recording and they also mark the only time that Mike ever played guitar on a Malibu Kens studio recording; I had played all the guitar parts on all previous recordings. Barry was kind enough to let me produce the Malibu Kens. Since we had recently recorded Party's Over and 421-1111 for Mock Chicken we were able to create new recordings of both songs fairly quickly. We only had a 4-track to work with and decided to keep the recordings as simple as possible which meant no bouncing down of tracks and very limited overdubbing. We recorded drums (Ed), bass (Jim), electric guitar (me), and acoustic guitar (Mike) all in one pass onto two tracks. We then used the remaining two tracks for lead vocals, background vocals, and extra guitars. There were no tracks left for adding keyboards or all the other extra things you hear on the Mock Chicken versions of these songs.
It was during the final production of It Came From Inner Space in June 1983 that the Malibu Kens split up for the last time. The split came at an awkward time because Barry did not want to have any bands on his record that were broken up. In order to remain on the record we assured Barry that the Malibu Kens were still a band and that we were actively looking for another singer. We edited two photos of us that were to be included on the album by snipping out Mike. In the liner notes we made no mention of Mike other than describing ourselves as "3 conniving, money-grubbing tunesmiths and 1 grade A, card carrying, government inspected hog." When the record was released everyone was horrified at how we had cut Mike out of the pictures and liner notes. They all thought we were very mean. But Mike wasn't surprised at all by what we did, he fully expected us to do that.
The players on Party's Over and 421-1111 were:
Mike McDonald: lead vocals, acoustic guitar
Scott Juskiw: electric guitars, background vocals
Jim Algie: bass guitar
Ed Dobek: drums
Party's Over and 421-1111 are included as bonus tracks on the CD version of Mock Chicken. These were digitised from my own vinyl copy of It Came From Inner Space and have been processed to remove as much vinyl noise as possible.
Booklet
Each group on It Came From Inner Space were given one page in an included booklet to promote themselves. The Malibu Kens page featured one photo of the group (shown at left, obviously cropped to remove Mike) and the following text:
The Malibu Kens are 3 conniving, money-grubbing tunesmiths and 1 grade A, card carrying, government inspected hog.
The Members Are:
Scott Alloy: 6'-1", 150 lbs. Quote: "I'm gonna wipe my bum with your face." This much envied guitar hero bleeds no pity for milk-sop, lily-livered novices. This guy really cuts!
Gentleman Bob Tudley: 6'-1", 180 lbs. Quote: "There ain't nothing finer than circus people and a corn cob pipe." Bob is a drummer who just "loves to love", and what he loves most is a warm, tasty bowl of shit.
Scorchin' Jungle Jim Avalon: 6'-1", 600 lbs. Quote: "A man striving in every way to be good will meet his ruin among the great many who are not good." Jim does charity work for the Red Cross and runs a halfway house for wayward bunnies. He poisoned his neighbour's puppy just to watich it die.
A Brief Biography:
The conception of the band came in 1974 (grade 6) when Bob gave Scott a gaunchy-pull over his head. They met Jim on Popcorn Playhouse while singing "How much is that groundhog in the window".
The Songs:
421-1111: This song busts out at the seams and hits you over the head like a lead fart. Undeniably, it's one of the best songs you've ever heard. It's undeniable!
Party's Over: Exactly like the other song! A tender mixture of pain, suffering, and mirth.
The Critics Rave: (They've gone mad, they're raving lunatics.)
"...praise for the Malibu Kens, Hope..." - Graham Hicks
"They eat shit!" - Rex Reed
"I know them, I love them, I can't live without them." - David Letterman
"I really felt for those characters. When they died on stage, a little piece of me died with them." - Siskel and Ebert
There you have it - The Malibu Kens - Judge for yourself.